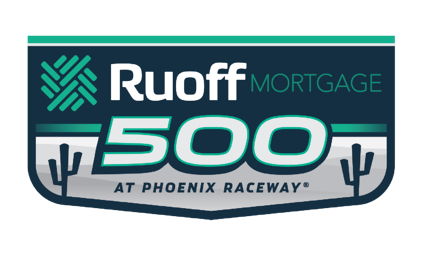 FORT WAYNE, IN (March 11, 2022) – This Sunday, Ruoff Mortgage will be recognized as the entitlement sponsor of the inaugural Ruoff Mortgage 500 at the Phoenix Raceway, the 4th race of the year for the NASCAR Cup Series.

Mark Music, President & CEO, will have the honor of waving the green flag that officially starts the race. He will also present the winning driver the trophy in Ruoff Mortgage Victory Lane. Kim Murphy, the company's Chief Administrative Officer, will declare the infamous "Drivers, Start Your Engines!" command to the field of 36 drivers. In July 2021, the nationally-recognized mortgage lender announced a multi-year sponsorship with NASCAR®, including branding of the most coveted real estate in all of motorsports, Victory Lane, for the Cup Series, Xfinity Series and the Camping World Truck Series across all NASCAR-owned tracks.

For NASCAR fans in attendance at the Phoenix Raceway this weekend, they will also enjoy the company's new "Welcome Home" activation display in the Fan Zone midway, rolled out two weeks ago at the Daytona 500, where they can take part in their own Victory Lane celebration. While standing on a platform with Ruoff Mortgage Victory Lane branding in the background, fans will receive a 15 second, 360 degree video of their mock celebration, complete with confetti, champagne bottle, trophy, and other props.

"We are beyond excited to have this incredible branding presence with the Ruoff Mortgage 500 and to introduce our name and value of our online mortgage loan process. In order to be 'Welcome(d) Home' to Victory Lane, drivers must be the fastest on the track, leading the way. Similarly, Ruoff's promise is to continue to find innovative ways to improve the mortgage process for our homebuyers nationwide, giving them the fastest, most efficient route to the finish line at the closing table," said Music.

Ruoff donated 100 tickets to both Saturday's and Sunday's race to VetTix, a non-profit organization that provides tickets to a variety of events to all branches of currently serving military and veterans. In addition, they ran a national sweepstakes to award a lucky fan, and their three guests, an all-expenses paid VIP Experience weekend for the Ruoff Mortgage 500.

The Ruoff Mortgage 500 airs Sunday, March 13 beginning at 3:30 p.m. EST on the FOX network.

About Ruoff Mortgage
Ruoff Mortgage is a full-service residential mortgage company with 70+ retail locations and originates in 46 states through their online consumer direct division. They have appeared on the Inc. 5000 "Fastest Growing Private Companies in the Nation" list for nine consecutive years and been recognized by several prominent industry publications such as the Scotsman Guide's Top Mortgage Lenders, Mortgage Executive Magazine's Top 100 Mortgage Companies in America and the Freddie Mac Home Possible RISE Awards. Ruoff Mortgage has a 98.2% customer satisfaction rating, as compiled by CX leader, Customerville. www.ruoff.com