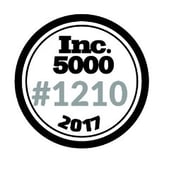 FORT WAYNE, IN (August 16, 2017) – For the fifth consecutive year, Ruoff Home Mortgage has earned a position on the 2017 Inc. 500|5000 list of fastest growing companies in America, increasing their foothold on the list to #1210.
The ranking is their second-best spot since first appearing on the list at #722 in 2013. Last year they were ranked #1712, followed by #2022 and #3589, respectively. They also are ranked in the Top 10 businesses in Indiana.
According to a congratulatory letter from Inc. Magazine editor Eric Schurenberg, "Appearing on the Inc. 500|5000 list grows increasingly difficult each year as the starting base grows. Although tens of thousands of companies have applied throughout the years, only a fraction have made the list more than once. Ruoff is of the mere seven percent that have made the list five times."
Companies that made the list, on average, have grown sixfold since 2013. Over a stretch when the economy grew just 6.7 percent, that's a result most businesses could only dream of.
Mark Music, president & CEO of Ruoff Home Mortgage, stated, "This is our 5th consecutive time on the Inc. 5000, which is a truly extraordinary accomplishment. This incredible feat was made possible by the tenacity, dedication, outstanding customer service and attention-to-detail of our valued employees."
For the Inc. reporting period of three years, Ruoff's revenue increased 340 percent. The 2017 Inc. 5000 list and Ruoff Home Mortgage's company profile are available online at http://www.inc.com/profile/ruoff-home-mortgage.