INDIANAPOLIS (May 23, 2017) - Fort Wayne, Indiana. headquartered Ruoff Home Mortgage has partnered with Andretti Autosport to brand the No. 26 machine piloted by Takumo Sato for the 101st Running of the lndianapolis 500-Mile Race. The Ruoff Home Mortgage Honda will make its debut with Friday's Carb Day ahead of Soto's eighth career Indy 500 start Sunday. Sato, the veteran lndyCar driver in his first season with Andretti Autosport, will start a new century of 500-mile racing from the inside of Row 2 in the fourth position.
"Like Andretti Autosport, Ruoff Home Mortgage thrives on speed, technology, innovation and precision to make us the number one mortgage lender in Indiana which makes this an ideal partnership." said President &. CEO. Mark Music. "We are thrilled to be a part of the Indy 500 tradition."
Added Andretti Autosport CEO. Michael Andretti, "I consider Andretti Autosport to be a family business, and as such we are proud to partner with another Indiana based family company, Ruoff Home Mortgage. Having a home-state partner join us for the Indy 500 is truly something special."
Live TV broadcast of the 101st Indy 500 is set for Sunday 11 a.m. ET on ABC with radio provided by SiriusXM (Sirius 214, XM 209 and on the SiriusXM opp). Sato will take the green flag Sunday along with teammates Indianapolis 500 champions Alexander Rossi (2016, No. 98 NAPA AUTO PARTS/ Carb Honda) and Ryan Hunter-Reay (2014. No. 28 DHL Honda), Marco Andretti (No. 27 United Fiber 8. Data Honda). Fernando Alonso (No. 29 McLaren Honda Andretti) and Jack Harvey (No. 50 Michael Shank Racing w/ Andretti Autosport).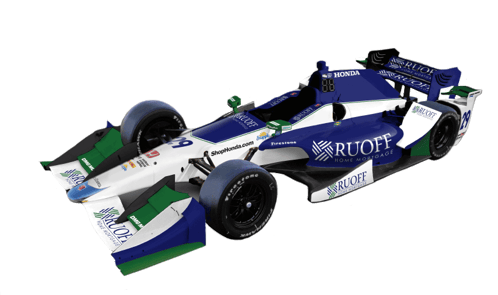 About Andretti Autosport
Based in Indianapolis and led by toeing legend Michael Andretti. Andretti Autosport boosts a wide racing portfolio rooted in tradition and designed for success. Together with Andretti formula E and Volkswagen Andretti Rallycross. Andretti Autosport fields multiple entries in the lndyCar Series and Indy Lights, along with entries in the FIA Formula E Championship and GlobaI Rallycross. The company boasts four IndyCar Series championships (2004, 2005, 2007, 2012), two Indy Lights titles (2008, 2009), one Pro Mozdo championship (2013) and one USF2000 championship (2010] and has captured victory four times at the famed Indianapolis 500-Mile Race (2005. 2007. 2014. 2016). Additionally, the team holds two X Games Gold Medals and two Global Rallycross championship (2015, 2016). To share in the Andretti story. please visit online at AndrettiAutosport.com and follow along on Twitter via @FollowAndretti.